We Provide Building Materials for Everyone & All Project Sizes
When it comes to providing high-quality building materials for everyone and all project sizes, look no further than Builders Select. We specialize in providing materials for new homes, multi-living units, additions, remodels, pole barns, garages, decks, windows, doors, roofing, siding, and for larger projects like amusement parks. With our on-site lumber yard, we make pick-ups and deliveries easy and timely because your time is valuable and we honor that while you shop with us. There are no restrictions or limits when it comes to the vendors we use, so if you need to order a particular product or item not found in our store, we can place the order for you and have it delivered to the store or directly to you for added ease and convenience.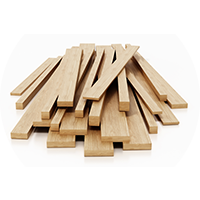 Dimensional Lumber
This is used for constructional builds because it is heavy-duty, durable and strong. Our selections come in higher grades such as Interior SPF, Treated, and Fire Retardant.
Sheet Goods
When you want strength and stability surrounding the foundation of your home, look no further than plywood. We offer a wide variety of wood finishes from LP OSB, CDX, Treated, Fire Retardant, to AC Pine, Birch, and Oak.
Hardware Store
When you need the essentials for a build, we're fully equipped and stocked with the latest models and designs in hardware equipment from Do It Best, the world's largest hardware store. Visit our store to purchase these items or order online.
To view or purchase these great products or for more information regarding questions on a particular product, visit our store or give us a call at 319-266-2668 today!
Contact us for more information
Request a free quote, visit our store to see the products we have to offer, or for more information regarding our services and business, give us a call at 319-266-2668 today!